BSM Starbreaker Booster
The tube power amp simulator "Starbreaker" is based on the generation of an asymmetric "tanh(x)" as transfer function. It is - typical BSM - completely built with discrete silicon transistors and no OPs. By a mini-switch the overtone range can be manipulated in two ways. The unit works fine with all PU types but its design-center is a Strat with modern SC-PUs. The Saturation knob allows the adjustment of light crunch over fat sounds up to to hefty distortion. The Starbreaker works exclusively with +18V DC at 8mA current consumption.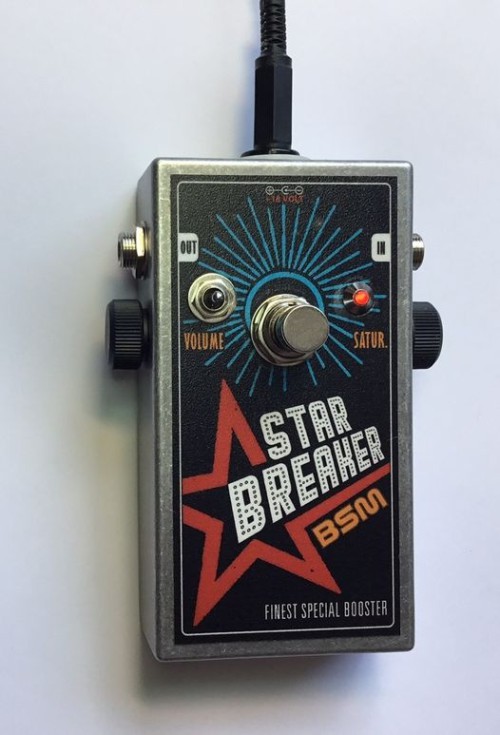 Here a few soundfiles with Les Paul and Stratocaster guitar at the "Starbreaker" direct in front of a class-D digital power-amp. No other effects were used.
If you have any questions concerning our products, especially the
BSM Starbreaker Booster
, our tech-head and mastermind Mr. Bernd C. Meiser would be happy to talk to you. So don't hestitate any longer and send him an email to
info@treblebooster.net
or use the
contact form
to contact him.
Reviews
Hallo Bernd, der Starbreaker ist da. Bin begeistert. Lässt sich mit dem treble Kippschalter super an verschiedene Amps anpassen. Klingt nicht harsch. Hammer mit ner Strat, aber Les Paul geht auch sehr gut. Super mit 1987 Marshall, aber auch sehr geil mit dem Bluguitar Amp1!! Danke für das Plektrum! Ich meine, Ritchie hat solche aus Schildkrötenpanzer (!?) früher gespielt, abgefahren! Bin zwar schon alt (62), aber Dein Pedal ist wie eine Zeitmaschine 😀👍.suddenly he felt so young…. Das Ding ist schon ein Geniestreich, Glückwunsch!
Carl
Der BSM Starbreaker wurde heute endlich ausgiebig mit einer 56er Goldtop LP in einem Fender Silverface Twin getestet und hat seine Aufgabe mehr als erfüllt! Klänge von Gallagher bis ZZTOP sind möglich. Headroom bis zum Abwinken. Dankeschön Bernd Meiser!!! Bin total geflashed...
Mick Wolf