BSM RW-F Treble Booster
Many guitarists of the late 60s and early 70s knew how to get a rough earthy and unmistakable sound out of their humbucking pickups and tube amplifiers, which in retrospect has not been possible to recreate so far. Representative guitarists' names are Luther Grosvenor, Henry McCullough, Steve Marriot or the incomparable Ron Wood. Now BSM has dedicated a special Booster to this sound, so as to receive this historical sound with every tube amp, that offers a powerful clean or crunch character.
The RW-F has been specially designed for classical medium power pickups like the PAF or P90, also the Mini Humbucker or fat overwound single coils. Especially the neck Humbucker, which often tends to sound muddy with inappropriate amp control settings, stays clear now with an unheard warm balance between bass and treble, when using the RW-F. The bridge Humbucker becomes tight and definite with great punch. One Gain-control is enough! It enables you to blend from a slightly earthy crunch to a creamy blues till fat modern. Everything is permitted. If the guitar's volume pot is slightly rolled back, you will get the typical earthy crunch of times long gone.
The RW-F Booster is inserted between guitar and amplifier, not into the FX loop. The magical tone is achieved by the interaction between guitar pickup, booster and amplifier. A 9V battery with a current consumption of approx. 250 uA powers the unit. Because of the external DC jack, you can power the RW-F with 9 volts. The average output level is 5dBm, the maximum output voltage when the strings are struck really hard is 4V max. Note: The negative pole of the battery is ground!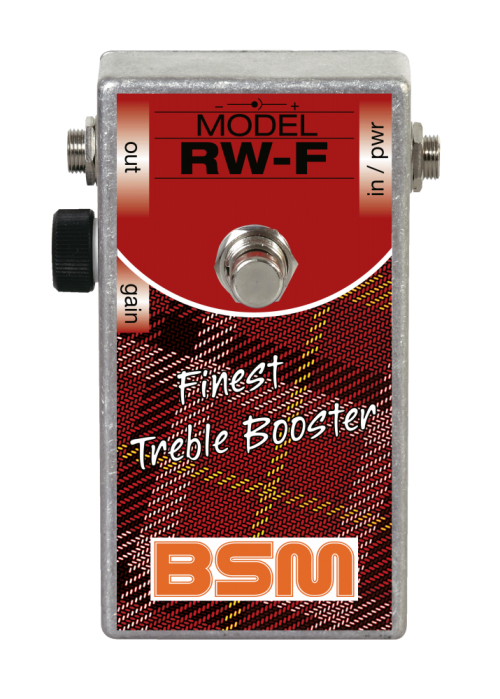 BSM - RW - F Booster (No Talk Geardemo)
Here is a soundclip, recorded by Dirk Gentz
With VA Ampflication Bruce John Dickinson Signature amp
Bruce John Dickinson playing 3 BSM Boosters
If you have any questions concerning our products, especially the
BSM RW-F Treble Booster
, our tech-head and mastermind Mr. Bernd C. Meiser would be happy to talk to you. So don't hestitate any longer and send him an email to
info@treblebooster.net
or use the
contact form
to contact him.
Reviews
Nabend Bernd. Erster Testlauf des RW-F in der Probe.... BOMBE!!!! Genau wonach ich immer gesucht habe und mit allerlei Drives nicht erreicht habe. Auch geil, keine Frage, aber jetzt.... Ohr-porn-träumchen.... Lg vom Bodensee
R
Hi Bernd, Am Wochenende den RW-F abgeholt und schnell nach Hause und eingesteckt...schnell war klar dass das Teil echt der Hammer ist. Kommt richtig gut mit Gitarre und Amp, besonders gefällt mir, dass der booster sowohl über alle Master Lautstärke Bereich als auch im ganzen preamp/gain Bereich gut kommt. leise, laut, egal, immer klingts schön rockig Bluesig und irgendwie sensibel zugleich. Kein Vergleich zu den (zwar) Overdrives die ich schon ausprobiert habe. Und genau wie angekündigt besonders rausgeputzt und viel knackiger klingt nun der Halshumbucker, herrlich. Schöne Grüße und bis zum nächsten Mal
Martin
Hello Bernd, I finally received the BSM RW-F and have been playing it for 2 days now. Already it is my favorite of the several BSM pedals I now own. The RW-F is truly a wrecking machine that turns my Les Paul and Vox/Marshall amps into weapons of annihilation! The guitar volume roll-back tones are rich and vintage sounding, and cranked wide-open it has brutal power and biting sustain. Your best pedal yet, in my opinion.
John Cardin, Boulder, CO, USA
Hi Bernd, the pedal (RW-F) is absolutely brilliant – I've become found of using a Marshall micro amp in the studio – the booster just sounds so creamy, the sustain is great – and with e-bow it brings musical expressions I've just not been able to hear till now. This really should be used by every guitarist. I'm not a thrash metal merchant and demand the need for clear expression – this pedal does it! I' m recording an album presently – I'll send over some video stuff using the pedal once it's complete – should be Spring 2011. Kindest regards
David