Keith Richards Zone
This is the place for all you Keith Richards and Stones fans ! If you want to know about the equipment of Keith Richards and how to achieve his sound, read on ....
BSM Tone Chart
For an instant ticket into Keith-Soundland, take a good Telecaster and set your amp to clean with just a tad of tube break-up. When you hit the strings really hard, you´ll get these subtle crunch with full chords. If you want more distortion, take the BSM RPA Special Booster and dial in more gain to sound seriously dirty. The RPA will do it with low wattage amps like a Fender Deluxe, but it has also enough gain to fire up a ´57 Fender Tweed Twin or a Vox AC 30
---
Two more treblebooster could be a good choice, if this is not your cup of tea: The BSM VX-T and the BSM Ambassador. Both are able to deliver some sweet low mids, which help to create this full ringing and dirty chords, Mr. Richard´s trademark.
Keith Richards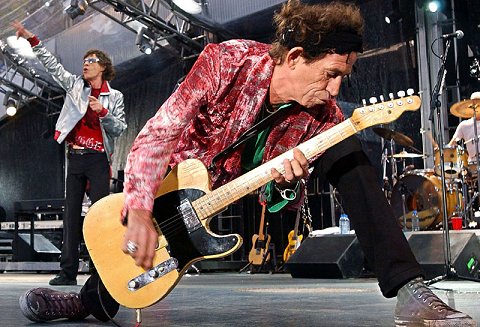 Known as a big fan of the "Human Riff", Mr. Keith Richards, a lot of people ask me how to achieve his trademark sound. And the next question of course is: what guitars and amps is he using ? My standard reply is always: which sound do you mean ? The early Stones sound? The sound from ´68-´76 ? His live rig of the last 15 years ?
The problem is: Keith Richards used tons of different amps and guitars. For the "Bigger Bang" - Tour his main set-up were two ´50s Fender Tweed Twins (sometimes through 4x12 Mesa Boogie cabs) and a little 15 Watts Oahu Amp for mean and real cranked overdrive tones. In the early´60s at the beginning of the Stones, he played through a Vox AC 30. Concert photos from a mid ´60s tour, show Fender Blackface amps as the line-up for the band. Some experts say, that he often used a Fender Brown Deluxe and/or little Fender Champs for recording. In fact Mr. Richards also used a Hiwatt Custom 100, a Vox Defiant and some obscure Triumph amps were credited for "Gimme shelter". Let´s not forget the monster Ampeg rigs, the Stones were using live and in the studio from 1969 till the late ´70s ! Fender Twin Reverbs were among Keef´s choice during the "Exile on main street" sessions. Mesa Boogies "Mark I" was heavily used in the´80s. On some recordings like "Jumping Jack Flash" and "Street Fighting Men" the main guitar sound is an acoustic guitar, recorded with the microphone of a little portable cassette recorder. The mic clipped and the result was a distorted acoustic guitar sound which was added to the studio four-track machine to be overdubbed with other instruments. But Keith quoted, that his all time favorite amps are Fender Tweed Twins and they are responsible for his most recognized amp sound on records and stage for the last 20 years. Probably these Tweed Twin amps (one of them has the serial number #00003) have some people in mind when they ask: what amp is he using for his trademark sound?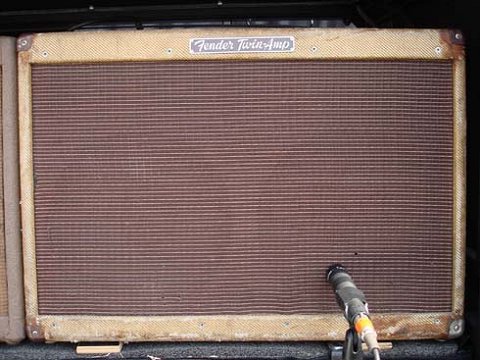 And the guitars? Eh, which guitars you want ? His famous´59 Les Paul Standard with Bigsby ? The Epiphone Casino ? During his entire career, I have seen the Riffmaster with: a couple of Zemaitis, the spectacular Dan Armstrong Lucite, Gibson ´59 Les Paul Junior DC TV Yellow, Gibson ´58 Flying V, a Gibson Melody Maker, Gibson ´61 SG Les Paul Custom, a ´59 Gibson ES 355 and ´64 ES 345, Fender Stratocasters and Telecasters, Music Man Silhouettes etc. etc. etc. ! But some of his legendary Telecasters (try and google: Micawber, Malcolm, Sonny) are his weapons when he plays the big Stones classics live: Brown Sugar, Honky Tonk Women or Street Fighting Men. Especially for this three songs, Keef uses his five string ´52 Black Guard Fender Telecaster called Micawber (see photo). It´s modified with a Gotoh brass bridge, Sperzel Locking Tuners and a reverse mounted Gibson PAF Humbucker at the neck position. The guitar is tuned in "Open-G".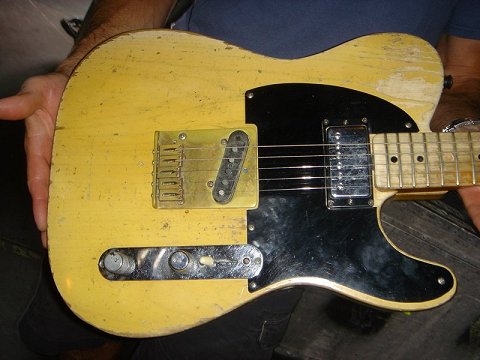 So finally we have a´52 Fender Telecaster and a´50s Fender Tweed Twin plus a low wattage amp for mean and distorted sounds. Like most of you guitar addicts out there, I can´t afford this simple set-up because I have not enough money for the guitar, the amps and the guitar tech ! I wish I could, but let´s face the truth: Any good Telecaster plus a good tube amp set to clean with just a slight touch of tube break-up, will help us getting close to our aim. Of course you can do it like I did - my friend and sound wizzard Ralf Reichen from Tonehunter custom-built an amp for me, which he called "Main Offender 41". The "Main Offender" was named after Richards second solo album. On this album you´ll find all these classic Tweed´n´Tele sounds and believe it or not - the Tonehunter "Main Offender 41" will give you all this sounds. My main guitar is a Fender Esquire with a "Tillcaster" Tele bridge pickup which you can buy from Kloppmann Electrics. This pickup sounds not like your normal Tele bridge pickup. It has more output and what makes it so special is the fact, that even with a full-driven amp the Tillcaster sounds powerful and has clarity within all the dirt´n´drive! Don´t ask me how Andreas Kloppmann makes them, but they are very useful for getting a good Keef-sound!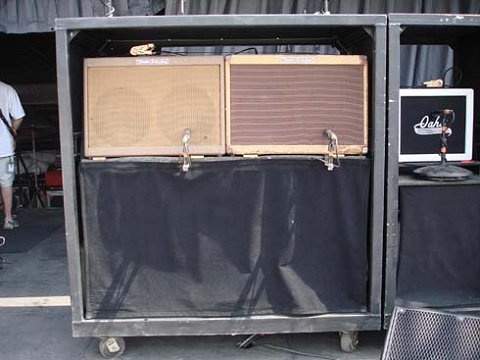 But sometimes Keith uses really dirty and fuzzy sounds and here is where BSM Mastermind Bernd C. Meiser enters the stage ! As a long time user of some of his beautiful trebleboosters like the VX-T and the really sweet sounding Ambassador, I always told him about my deep affection to Mr. Richards sound and having that in mind, he directed me to his RPA Special Booster which he designed some time ago. And Bingo! The RPA is now my best weapon in the Keith-sound-chain. The glorious thing about the RPA is the fact, that you can use it´s gain knob for a little push or a mighty, dirty and mean kick in the butt of your amp. It works with all my amps: the Vox AC 30 and the Main Offender need much gain from the RPA to get into overdrive but not my little Dynacord or my Deimel AC 15 - they just need a little boost on top to get real dirty! And don´t worry because it´s a treblebooster - the RPA has a very useful EQ-knob, which allows you to dial in some nice low mids. But the RPA won´t sound flubby or mushy, it always stays tight and focused. It works brilliant with humbuckers and singlecoils ! Another highlight is working with the volume pot of your guitar ! Remember - no normal overdrive pedal will clear up so beautiful when you roll back the volume than a good treblebooster like the RPA ! I know that Bernd C. Meiser designed the RPA Special Booster to replicate some tones of his guitar hero: Ritchie Blackmore! But hey - it also works for getting some serious Keith Richards-sounds ! Well done, Mr. Meiser ! Hats off!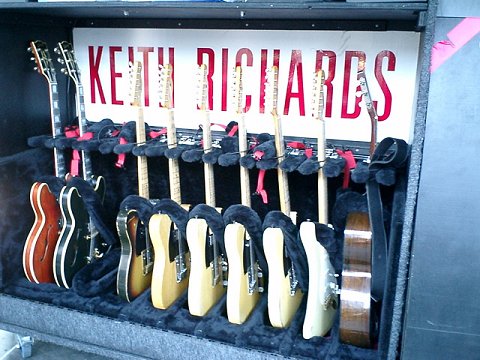 ---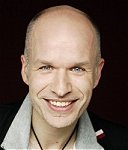 Written and researched by Till Hoheneder, Germany´s only comedian who´s music comedy group Till & Obel ever had the honour to be recorded by the legendary WDR Rockpalast. He´s now an independent author and still performing solo or with his band "Till & Die Altobellis". If you want to contact Till, please send him an email through his
webpage