BSM 71/73 CM Treble Booster
From 1971 forward, Ritchie Blackmore not only used the mid-rangy sounding Hornby-Skewes trebleboosters, he also used the highly dynamical and brilliant sounding CM booster, built and designed by Bill Hough. For all historical details look up Ritchie Blackmore's Mk2 sound. The new BSM 71/73 CM is a faithful recreation of this pedal plus the typical BSM add-ons. This is all you need to cover the whole tonal range of the legendary Deep Purple Mk2 period. The "Mode" and "Bright" controls make this low-gain stompbox extremely versatile, producing a classical Hardrock tone with a lot of nuances. Not only useful for Blackmore- sounds this is a pedal that also works well with humbucking pickups, giving you a crisp yet dirty crunch sound on an already overdriven tube amp. You will even get a super-clean funky tone with single coils and a clean amp. You will probably never want to switch off this pedal anymore.
Setting advice for BSM 71/73 CM Booster. Standard setting for the 71/73 CM bases on the 1971 CM (custom made) booster built for Ritchie by Bill Hough and should be used in front of a tube amp with an additional bright-enhancement circuit: "Bright" at 8:00 o'clock, "Mode" at 13:00.
The "Bright"-control of the booster works similar to the bright volume of an amp. For technical reason the direction of the controller works contrary to the common direction counter clockwise. This means, that the noticeable full gain-setting without bright-enhancement is at minimum 7:00 o'clock (full left). Maximum treble (or better maximum bass-mid-reduction) can be achieved by turning it up full at 17:00 o'clock. At 9:00 the booster works with a little reduced gain and barely noticeable treble-lift, thus can be defined as neutral. In between 7:00 and 9:00 the gain-range can be described as sound-neutral. For Ritchie's airy sound around 1971 and ́73 it is not necessary to use full gain. 9:00 is good standard setting to start with.
The "Mode"-control provides the specific frequency-range of the basic-booster model what is the CM-booster by Bill Hough, generating Ritchie's ́71 Beat Club sound. Around 1973 Ritchie additionally started to use his new Marshall Majors with the bright-volume-characteristic. Therefore, to generate his ́73s New York (Hofstra university show) sound it is necessary to turn the Bright- control to about 13:30. Fine-tuning around this point belongs to your personal taste and equipment.
By turning the Mode-control less or equal 12:00 and Bright to about 8:00 means entering the area of the old Hornby-Skewes boosters. To emulate the germanium fitted HS-C booster you will have to turn Mode to 11:00, Bright 8:00. The silicon powered HS-S can be achieved by turning the Mode fully back to 8:00. In most cases it will be useful to give a full gain setting on the bright-control. Just to remember: the pot works counter clockwise, therefore the position is 7:00. To achieve a nice power-boost set Bright to full gain at 7:00 and Mode to 14:30 to 15:30. This way low gain single coils can sound like the fatter Quarterpound pickups. If the sound should be most biting, Mode needs to be at least 15:00. Ratio between treble and bass can now be balanced via the Bright-pot. This should be set greater than 9:00 to have a tight and clear bass, not to overlie the brilliant treble. The higher the Bright-control-setting, the cleaner and slender the bass will be.
The 71/73 CM Booster should be inserted between guitar and amplifier, not into the FX loop. The magical tone is achieved by the interaction between guitar pickup, booster and amplifier. The unit is powered by a 9V battery with a current consumption of approx. 250μA. The average output level is 5dBm, the maximum output voltage when the strings are struck really hard is 3V max. The unit is true bypass and can be powered by 9V battery or the external 2.1mm DC power-jack. The box can even be powered up to 18 volts for increased headroom and maximum dynamics.
Note: The negative pole of the battery is ground!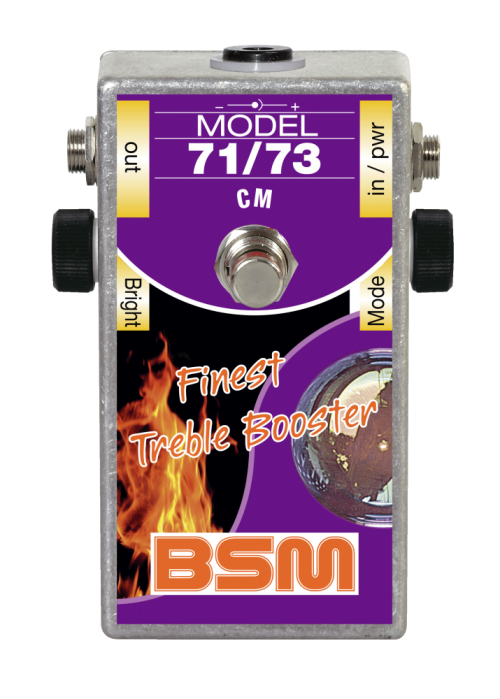 BSM 71/73 Treble Booster Review (Sound like Ritchie Blackmore)
71/73 in front of a VOX AC30HW
Here, Toby J. is playing the Blackmore stuff:
*"It's a Strat, I put together with Fatboy PUs, into your BSM 71/73 into a hand-built 18w Marshall clone amp through a couple of early 70s Pulsonic Celestions (G12H 55Hz). Amp volume on 7. Normal channel - tone off."*
If you have any questions concerning our products, especially the
BSM 71/73 CM Treble Booster
, our tech-head and mastermind Mr. Bernd C. Meiser would be happy to talk to you. So don't hestitate any longer and send him an email to
info@treblebooster.net
or use the
contact form
to contact him.
Reviews
I am a musician 30 years ago, never have been playing with something as the 71/73.... you´re a wizard and an artist!!!!!! Ich übertreibe nicht ... Sie verdienen Standing Ovations Regards Mr Bernd
Ing. Alejandro A. from Mexiko
Hallo Bernd, habe gerade den 71/73 erhalten und wollte dir sagen, dass der Booster bisher für mich der Beste ist. Habe nicht mehr damit gerechnet, dass ich so einen guten Sound bekomme. Alles, alles Gute!
Franz
Der BSM 71/73 CM Treblebooster ist das Beste an Boostern, dass ich jemals zu Ohren bekommen habe. Seit 2013 auf meinem Board und das einzige Pedal dass ich benötige um letztlich mit dem Volumepoti der Strat alle Arten an dynamischer Verzerrung bis hin zu Cleansound hinbringe. Wer auf Classicsounds steht, bringt einen Marshall (am besten einen JCM800??) mit, stellt Gain auf 13Uhr und ist zusammen mit Bernd Meisers Pedalen bis zum jüngsten Tag glücklich. Bei mir ist es nun der 71/73 geworden, der übrigens IMMER ANGESCHALTEN ist. Durchsetzungsfähige Ritchiesounds garantiert! Great Stuff!!!!
P.M.
Just tryed the beast and whoua it's a killer, just a great thing for the tone that is precise, hot, and clear, no buzz, bravo, your réputation comes from réal quality and I ll tell people around me that it is very good no doubt about that! Thank you again.
Thierry P. (plays in a Deep Purple tribute band) from South France
I'm playing with the settings and practising my best Ritchie licks. What a great pedal this 71/73 CM - many thanks!
Peter
Hi Bernd, 71/73 pedal arrived safely Monday however, I did not unbox until today. What can I say other than it's SUPERB! SUPERB! SUPERB! Many, many thanks
Terry
Hi Bernd, I had a concert with my Deep Purple tribute band last night...and with your backup unit 71/73 CM treble booster :) What a concert!! What unbelievable sound!! What a great treble booster!!! I don't know what this unit do, but It works really fine with strat and vox ac 30!! Really Blackmore tone! Great!!!!!!! Thanks again Bernd, Davide
Davide Fontecchia
Dear Bernd! I received the pedals. I don't have words. It's simply very cool! Small boxes make a great sound. CM 71/73 is very transparent and brilliance. Strat sounds like it must do. It's very interactive with Volume control of guitar. RPA Special is more distorted and fatness, but very singing. When EQ closed, it's really Machine Head's sound. I tried it with Marshall JVM 215C combo in clean channel. It's really like JCM 800 and 4x12 Cab. Ambassador is very useful. Each position of controls makes new sound. I tried it with Ibanez TS-9DX (Keely mod), Empress Effect Multidrive and Wampler Pinnacle II. My guitar is ready to explode. You are magician. Many, many thanks! Nick, Moscow
Nick, Moscow
Hi Bernd, I have good news.... I tested some of your pedals.... HS-C - Fireball - 71/73 - and RPA California. They are fantastic.... great sound. Sound is very similar to Ritchie's sound. Now I have these 4 boosters. If you want to play Deep Purple & Rainbow songs these boosters are ABSOLUTELY NECESSARY!!!!
Emiliano Lupi